SteelSeries Engine is the Apps to combine all frequent functions for gamers in order to easily customize every individual key and functions to personalize every gamer's play style, including KLM, multiple devices management (for example, headset, mouse, and keyboard), keypress macros, and text macros.
Friendly UI design
The SteelSeries Engine is easy to understand by using pictorial representations of devices along with basic drag-and-drop techniques to assign key presses, complex macros, device profiles and buttons. Also features intuitive macro creation with customizable colors, fonts, and names for everything.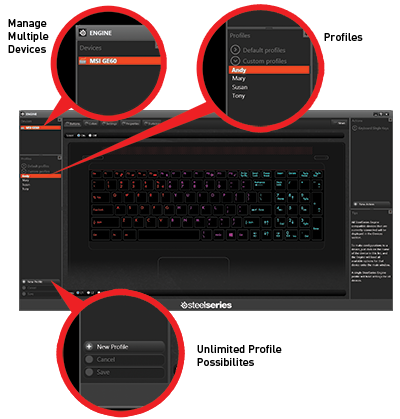 Every key can be customized to hot key as you want!! *
Every gamer can easily customize every individual key as hot key to personalize his own play style, greatly increase the convenience on key usage.
* FN, F1-F12 keys except
Just one click!! quickly launch Apps from SteelSeries Engine
Gamers can freely choose any key as launch application button, no longer need to click the mouse for Apps start.
4 keyboard layers options!!
There are 4 layers for gamers to set 4 usage scenario or game. Not only that, while playing the game, gamers can easily and quickly switch layer*, such as a chat screen with friends. Communication with friends is not interrupted!!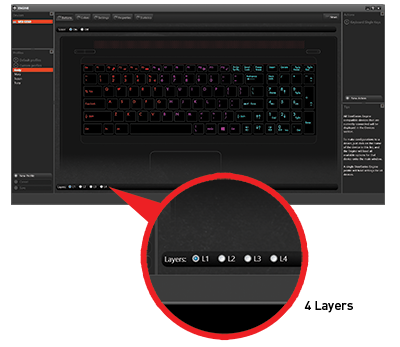 Intelligent keypress macro capabilities
There are virtually unlimited keypress macro creation capabilities. Anything you can do on a mouse or a keyboard can be programmed along with specific event timing. You can even program mouse events into keyboard macros. Your macros will be running at a high priority in your computers Operating System, yet it does NOT interfere with your real time actions during gameplay.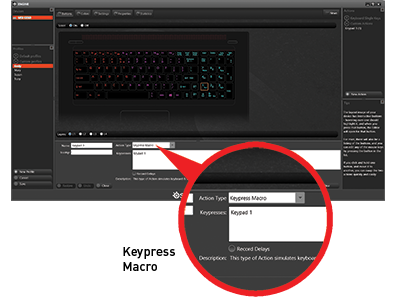 Create your own text macro
Besides keypress macro, SteelSeries Engine also can create the text macro for gamers' talk. By this way, gamers can have simultaneously multi-party conversation and do not waste time in doing repetitive typing.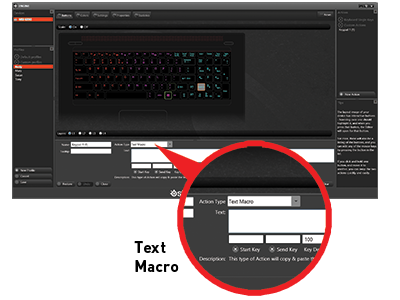 KLM (Keyboard light management)
Depending on your mood and desires, you can choose from more than 1,000 color combinations and five different scenario modes for the keyboard, enabling you to be the coolest gamer at any LAN party!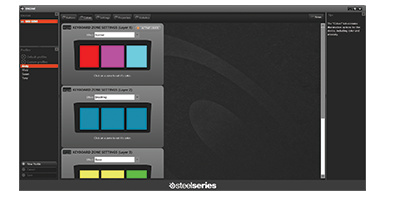 Unlimited profile possibilities
Profiles are sets of macros, button assignments, and device configurations that are frequently used together. An unlimited number of profiles, with customizable names, can be stored in the SteelSeries Engine. It provides predefined profiles for common games which can be used directly or as templates for your custom macros.



Statistics to analyze and improve
Whether you're playing an FPS or editing in Photoshop, being better and more efficient is something we want to help you achieve. Use the Statistics module to record your keyboard or mouse actions. Then review the peripheral heat map, which shows with both color and numbers the frequency of your key or button presses. You can then use this information to fine tune your macros as well as your key and mouse button assignments to optimize your tools to play (and work).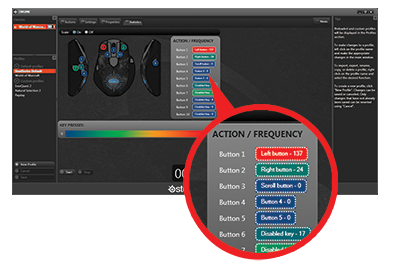 Freedom to Play
SteelSeries Engine will automatically recognize what game you are playing and open your saved profile(s) for that game. You can create your own profiles for other applications and then have SteelSeries Engine open the corresponding profile when you start up your application.