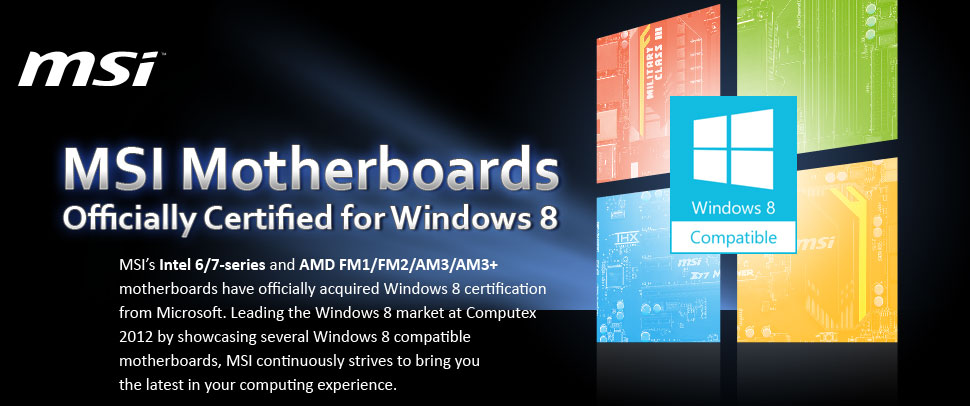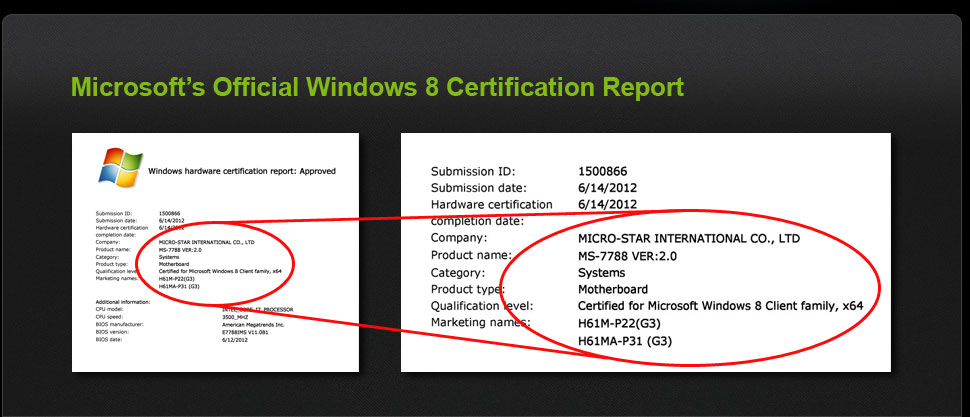 3D Mark for Windows 8

In addition to having obtained official certification from Microsoft, MSI is also currently the leading motherboard manufacturer to successfully run 3DMark for Windows 8 on its certified motherboards. This demonstrates just how fully prepared MSI is for Windows 8 in terms of both hardware and software in order to provide consumers with the best user experience.

Below is a captured image showing MSI's H61MA-P31 (G3) motherboard successfully running 3DMark on the Windows 8 operating system.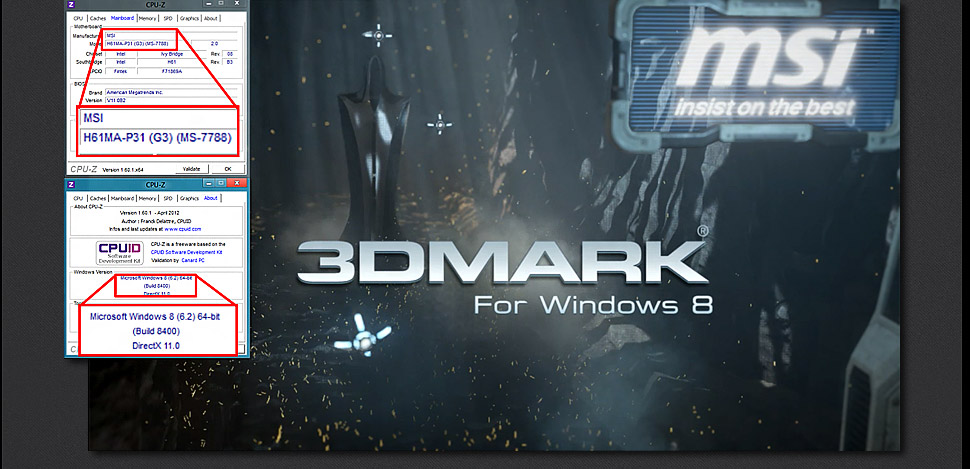 MSI Windows 8 Certified Motherboards

Below is a complete list of MSI motherboards that are certified for the Windows 8 operating system.
Intel Platform

Chipset
Models
X79
Big Bang-XPOWER II
X79A-GD65 (8D)
X79A-GD65
X79A-GD45 (8D)
X79A-GD45
X79MA-GD45

Z77
Z77A-GD80
Z77A-GD65
Z77A-GD55
Z77A-G45
Z77A-G43
Z77A-G41
Z77MA-G45
ZH77A-G43
ZH77A-G41
H77MA-G43

H77
H77MA-G43
ZH77A-G41
ZH77A-G43

Chipset
Models
B75
B75A-G43
B75A-G41
B75A-E33
B75MA-P45
B75MA-G43
B75MA-E33
B75IA-E33

H61
H61M-P31/W8
H61M-P20/W8
H61M-E33/W8
H61M-E22/W8
H61M-P35 (G3)
H61M-P25 (G3)
H61M-P23 (G3)
H61M-P22 (G3)
H61MA-P31 (G3)

AMD Platform

Chipset
Models
990FX
990FXA-GD80
990FXA-GD65
990X
990XA-GD55
970
970A-G46
970A-G45
A75
A75A-G55
A75A-G35
A75MA-G55
A75MA-P35

Chipset
Models
A55
A55-G45
A55-G35
A55M-P35
A55M-P33
A55M-P25
If you're unable to find your motherboard in the list above, please visit Microsoft's official site:
Windows Certified Products List for Windows 8.   

Just follow the step-by-step instructions:
1. Select your group, OS, and product type in the dropdown menus.
2. Type in your motherboard's name under "Enter a search value" (e.g. Z77A-GD65).
3. Click the "Search" button to check whether your motherboard is certified for Windows 8.