MSI announced today that their Intel 6/7 series and AMD FM2/FM1/AM3+ 900 series mainboards have officially acquired Windows 8 certification from Microsoft. During the Computex exhibition this year, MSI already lead the Windows 8 market by displaying several mainboards that meet the Windows 8 certification requirements and showing off various new Windows 8 features live for the exhibition audience.

Not only did the MSI mainboards get officially certified from Microsoft, they are currently the only leading mainboard brand that runs 3DMark for Windows 8 successfully on their certified mainboards, which proves that MSI is fully ready for Windows 8 in terms of both software and hardware, safeguarding the Windows 8 system's stability and compatibility for consumers and providing the best user experience!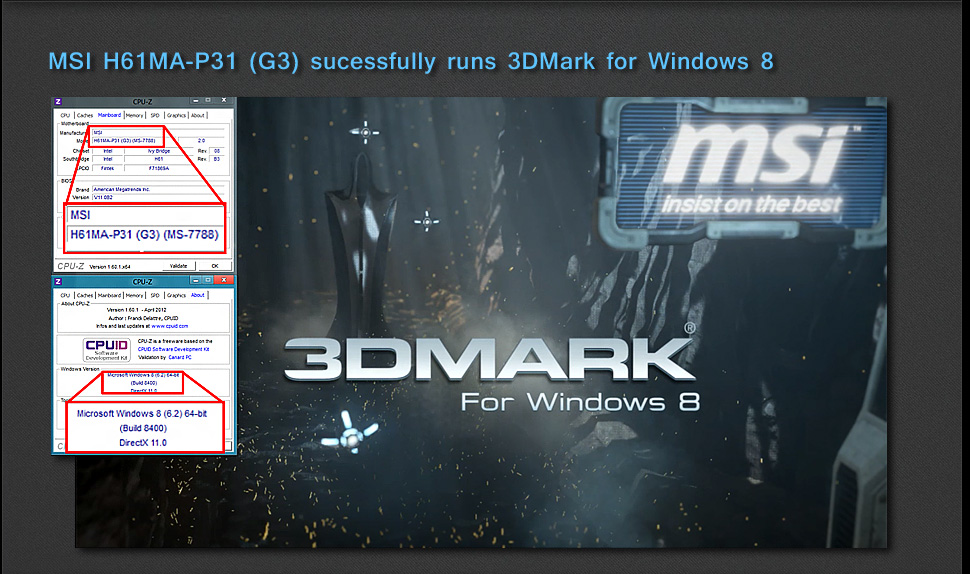 Intel Platform

AMD Platform
If you cannot find your mainboard above, please check Microsoft's official website:
Windows Certified Products List for Windows 8.   

Just follow the step-by-step tutorial:
1. Select the group, OS, and product type as below.
2. Type your mainboard's name in search value column (e.g. Z77A-GD65).
3. Click "Search" button to check if your mainboard is certificated for Windows 8 or not.